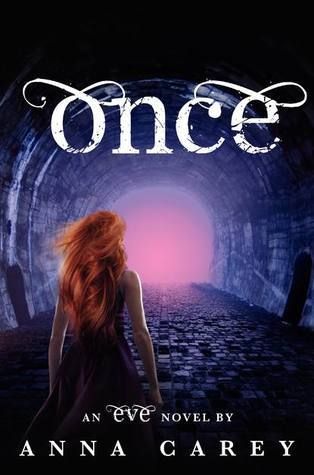 Read from March 13th - 18th, 2015.
(Source: Purchased.)
I struggled with rating Eve, and I'm having the same problem with Once. It's not that they are bad books, which is why I gave them both three stars, but I just do not like most of the characters. That makes it really hard to love a book. I do enjoy the author's writing style - she does an excellent job of describing characters and places. But while she provides a clear picture of most characters, it doesn't make me like them.
I liked Caleb in the last book, but it was like he lost all common sense in this one. Eve was about the same as in the first book - still incredibly naive and stupid, without any real growth. Part of me wants to think she's brave, but the other part of me thinks it's just stupidity. I can't go into much detail without giving away important plot twists, but one of her redeeming qualities is that she will risk her life to save the ones she loves. But, again, I'm not sure if she's being brave or just hasn't given any thought to the danger.
One thing that I do have to say about this series is that the plot twists come out of nowhere. I can usually guess what's going to happen, and while some of it was predictable, I was very surprised a couple of times. I always enjoy being shocked by plot twists while I'm reading, so that's definitely my favorite part about this series so far.
I did enjoy reading Once more than Eve, so maybe I'll like Rise even more. :)
Rating (out of five stars):



Click to view this book on Amazon
Click to view on Goodreads
Anna Carey's website