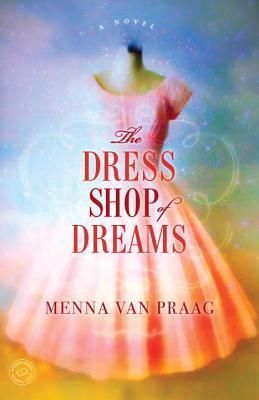 Read from February 27th to March 2nd, 2015.
(Source: I received a copy of this book from NetGalley in exchange for an honest review.)
I absolutely adored this book! I was first drawn to it because of the lovely cover, and I'm so happy that I decided to read it.
Cora is a scientist who lost both of her parents in a mysterious fire many years ago, and was subsequently raised by her eccentric grandmother, Etta. Etta wants nothing more than for Cora to find happiness, but Cora seems to have no interest in anything but her research. After her parents died, she locked away her feelings, but Etta is determined to do what she can to help Cora heal.
Etta owns a charming dress shop, and with just a tiny red star stitched into the dresses, her gorgeous gowns hold the power to help a woman's deepest desires and wishes come to pass.
Walt is a shy bookseller who has been in love with Cora for years, but Cora, with her mind always on her research, has failed to notice. Etta decides to give Walt a little boost of confidence by sewing a tiny stitch into his collar, but she doesn't realize she's setting off a chain of events which will have very unexpected results.
The Dress Shop of Dreams
is a very sweet novel about love, loss, and recovery, with just a little bit of magic sprinkled throughout the pages. I really enjoyed reading about the characters, and I read this one a little slower than normal because as much as I wanted to know what would happen, I also didn't want the book to end. I loved the author's writing style, and there was just enough intrigue, romance, and magic to keep me interested to the very end.
I would definitely recommend this one.
Rating (out of five stars):





Click to view this book on Amazon
Click to view on Goodreads
Menna van Praag's Official Website