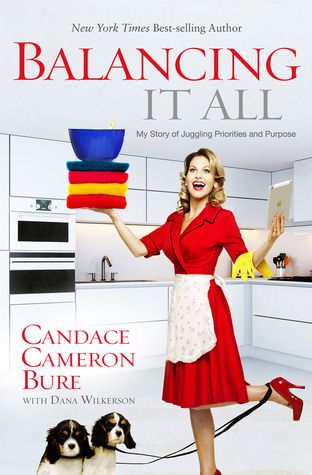 Read March 12th - 13th, 2015.
(Source: Purchased from Amazon.)
I have to admit that the only reason I picked up this book is because I was a huge "Full House" fan growing up, and D. J. was one of my favorite characters. We "grew up" together, and I guess that had something to do with it. Anyway, I was hoping for more of a biography, with a lot of "Full House" behind-the-scenes stories, but I was disappointed in that respect. She did talk about her time on "Full House" in passing, and offered a couple of anecdotes involving her fellow cast members, but it was definitely not in-depth or detailed.
As the title suggests, this book is more of a guide to learning how to balance family, friends, work, and faith, rather than the usual celebrity biography. Each chapter begins with a Bible verse, and she uses examples from her life to go along with the verse. While she has some good advice, there is nothing mind-blowing included, though someone who is new to devotionals may find some useful information. Most of the book is geared toward wives and mothers, but she does make a point of including advice for single women, as well.
Like most books written by celebrities, this was a very quick read. I think it would be a good book for someone feeling overwhelmed and unable to balance their priorities, or someone new to faith-based books. As an outspoken Christian, Candace does seem to have her priorities straight, and though she isn't perfect (as she points out several times), she does offer some insight into "balancing it all."
If you're just looking for a "Full House" tell-all, skip this, unless you're just a huge Candace Cameron Bure fan. But if you're looking for a quick faith-based guide for advice on priorities, give it a try.
Rating (out of five stars):



Click to view this book on Amazon
Click to view on Goodreads
Candace Cameron Bure's Official Website