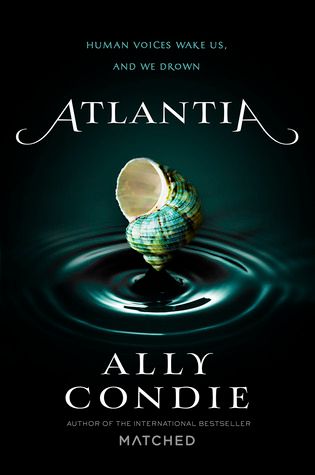 Read from November 17 to December 02, 2014.
(Source: Purchased from Amazon.)
I'm not really sure how I feel about Atlantia. It was a very interesting premise, but it just didn't work very well for me. I was bored through most of it, as much as I hate to admit it, and it felt like the action was completely nonexistent. Even when the characters were in danger, it didn't
feel
that way. I never felt any concern for them because I just knew everything would work out.
The characters felt flat, and one of the clichés that I'm really starting to loathe is present: insta-love. I think I would enjoy that more as a teenager (I know, I know... YA is technically
for
teens), but as an adult, it just bothers me. At least there isn't a love triangle, though.
This book had so much potential, and I'm a little disappointed that I didn't enjoy it more. It wasn't completely bad, though, as the author did a good job of describing Atlantia, and I liked the bats, as odd as that sounds. The villain (who shall remain nameless - no spoilers here) just felt so one-dimensional, and I'm still not absolutely sure why they did what they did. What was the real goal? And I feel like there wasn't any closure as far as the "villain" goes. What happened to them? Were they jailed? Allowed to roam free? And I know I said no spoilers, but I do have a specific question that is spoilery, so proceed with caution.
WARNING: SPOILERS AHEAD
How is Nevio a siren? I've never heard of male sirens, and I feel like that's something that should have been addressed. A little backstory about that could have made all the difference. Ah, well.
END OF SPOILERS
I hate to end this review on a low note, so I'll mention the cover. It's gorgeous, isn't it?
Rating (out of five stars):


Click to view this book on Amazon
Ally Condie's website