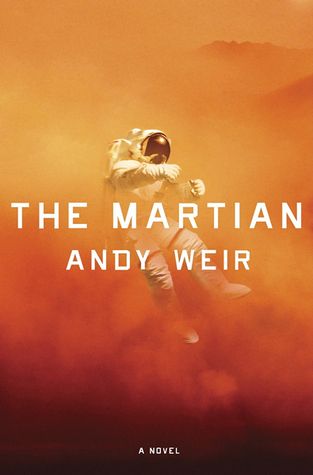 Read from January 25th - 27th, 2015.
(Source: I received a copy of this book from
Blogging for Books
in exchange for an honest review.)
Wow. Just...
wow
.
The Martian
is an incredible book. I had heard good things about it before I started reading, but I wasn't sure if it was something that I would like. When I saw that it was available for review on Blogging for Books, I decided to give it a try.
I was hooked from the very first page.
It's told mostly through logs written by Mark Watney, an astronaut who has accidentally been left for dead on Mars, with occasional chapters on Mission Control back on Earth, and the crew that abandoned him, although not intentionally. But most of the focus is on Mark, and rightly so.
With no way to contact Earth, Mark is sure he's going to die. Even if he was able to let someone know he was still alive, it would take a rescue mission years to reach him. But he doesn't give up. By using his ingenuity and engineering skills, as well as his botany expertise, he manages to survive... alone on Mars.
I really, really loved this book. I honestly can't think of a single thing that I didn't like about it. Andy Weir's writing style is wonderful, the pacing is great, the humor in the face of life and death situations is perfect. It's just a gripping and thrilling read. I was on the edge of my seat, and I would be lying if I said I didn't tear up at the end.
Mark is a really great character. He's smart, brave, and resourceful, but he's also flawed. He's human, and it's refreshing to find a character who isn't perfect. The scenarios Mark was faced with felt entirely plausible. There was enough action to keep the book from getting boring, but never so much that it became unbelievable.
I would
highly
recommend this to everyone, whether you're usually a fan of science fiction or not. I just can't say enough good things about it.
Rating (out of five stars):





Click to view this book on Amazon
Andy Weir's website