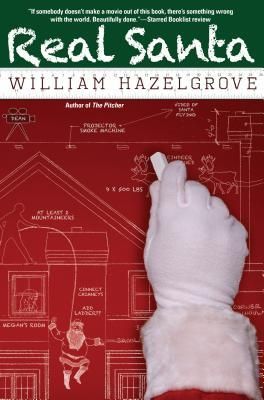 Read from December 9th to 11th, 2014.
(Source: I received a copy of this book from
eBooks for Review
in exchange for an honest review.)
While the premise of the book sounded promising, the execution of it was less than stellar. I wanted to read a nice Christmas book during the holidays, and this one seemed like it would be perfect. It sounded like a sweet, feel-good novel about a man trying to keep his daughter's belief in Santa Claus alive. And while that
is
what the book is about, it was just so far-fetched that none of it seemed plausible. I feel like a Scrooge for rating this so low, especially after seeing all the wonderful reviews it has received on Goodreads, but sometimes a book just isn't a good fit for every reader.
George Kronenfeldt loses his job two weeks before Christmas, and then finds out that his 9-year old daughter is doubting the existence of Santa Claus. Since he now has a lot of free time, he decides that he'll do whatever he has to do to ensure that she doesn't stop believing. This includes dressing up as Santa and actually climbing up on the roof with a sleigh and live reindeer on Christmas Eve. While I can definitely appreciate wanting to do everything you can for your children, the length to which George takes it is just a little extreme. It seemed very unrealistic that a man who has recently lost his job would spend every bit of his savings and take out a loan just to make his daughter believe in Santa. $60,000 is quite a bit of money, especially when you're currently unemployed. Surely there was a cheaper way to try to keep Megan's belief alive.
Also, all of the characters seemed to be melodramatic, especially Megan's teacher, who absolutely hates Christmas and Santa Claus. We've all had that teacher who was just a little too "mean", but I never had a teacher so determined to make kids stop believing in Santa. While I understand that novels need a "villain", she was just a little too over-the-top for me.
I know it sounds like I hated the book, but it wasn't all bad. As I said, I do understand wanting to do whatever you can to make your children happy, so the point of the story isn't unrealistic. There were also a few funny moments throughout the book, and the ending was a bit touching, if a little rushed.
Rating (out of five stars):


Click to view on Amazon
William Hazelgrove's website