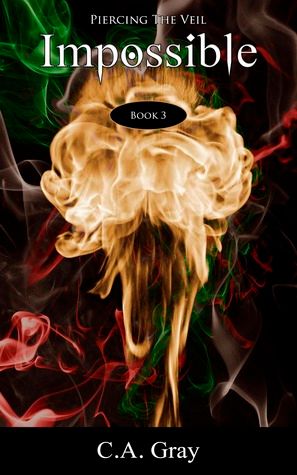 Read from October 20 to 22, 2014.
Impossible picks up where Invincible left off and quickly gets right back to the action. I started reading this as soon as I finished the second book, and it was a really smooth transition. This is one of those series that almost feels like one really long book - I wanted to read to the very end of the series without stopping. It's a definite page-turner, and I found myself on the edge of my seat several times.

One remarkable thing about C. A. Gray's writing style is that it is so easy to fall into her world. I was held spellbound right from the very beginning of the series, and that remained true all the way to the end. She has quickly become one of my favorite authors, and I can't wait to read more of her work in the future. Her grasp of Arthurian legend, science, physics, biology, and myth is obvious, and she clearly knows what she's writing about. I feel like I learned a few things along the way, and that's always a bonus.

I don't want to go into detail about what happens in the book as I don't want to risk spoiling it, but it is action-packed and I was kept wondering how it would work out all the way to the end. I laughed and shed a few tears, and my jaw may or may not have literally dropped during the final battle scene.

This was a very satisfying conclusion to an amazing series, and I'll miss these characters. Well-written and well-researched, Impossible is a gem.
Rating (out of five stars):





Click to purchase from Amazon
C. A. Gray's website