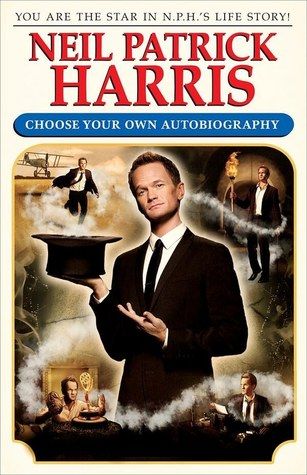 Read from October 24 to 27, 2014.
I received of copy of this book from Blogging for Books in exchange for an honest review.
This is a unique book with a very clever premise. It can be read as a true "Choose Your Own Adventure" story, or you can read straight through. I chose the latter because I didn't want to risk missing any pages. It was a very quick read, but I've found that's true of most celebrity autobiographies.
It seemed like it only skimmed the surface of his life, and I wonder if that was the intention of the "Choose Your Own Adventure" format. Writing it this way kept him from having to go into too much detail, and he was able to skip around without it seeming too odd.
There were some bits that I feel could have been left out - they didn't add anything to the book (other than to increase the page count), and they weren't interesting or amusing. These included recipes for some of his favorite dishes and drinks, magic tricks, and letters written to him from some of his celebrity friends. A couple of the letters were amusing, but most felt pretentious and out of place.
He never stayed on any topic for very long, but he discussed his family, career, enjoyment of magic tricks, vacations, and his numerous Broadway roles. He seemed to spend the most time talking about the various shows that he has been in, and his love of the theatre is obvious. He also described a few of his hosting gigs, and I found myself on YouTube more than once so I could watch the performances. "Bigger" was definitely worth watching.
All in all, I found this to be an enjoyable book, and I think fans of NPH will really like it.
Rating (out of five stars):



Click to view this book at Amazon
NPH's Twitter
About the author:
Neil Patrick Harris is a Tony and Emmy award-winning stage and screen performer, famous for his roles as Barney Stinson in the popular CBS sitcom How I Met Your Mother and as the iconic and beloved Doogie Howser, M.D. He's been in many movies, hosted both the Tony and the Emmy Awards multiple times, performed in several Broadway shows, and enjoys the Twitter (follow him at @actuallyNPH). Oh, and he is an accomplished amateur magician on the side. And the father of twins. And he's Dr. Horrible.