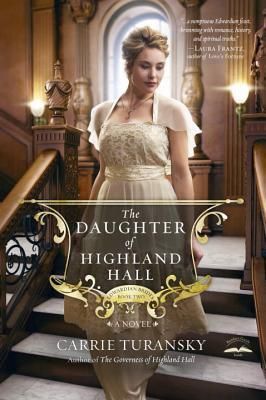 Read from October 07 to 09, 2014
I received this book from Blogging for Books in exchange for an honest review.
I normally don't read books in a series out of order, but I made an exception for this one, and luckily it wasn't a problem. While this is the second book in the
Edwardian Brides
series,
The Daughter of Highland Hall
can be read as a stand-alone novel. I have a general idea of what happened in the first book, just from reading some of the back-story in this one.
The Goodreads blurb says fans of Downton Abbey,
Jane Eyre
, and
Pride & Prejudice
will enjoy this novel, and that is completely spot on. The Downton Abbey influence was felt throughout the entire novel, which is definitely not a bad thing, as I really enjoy the show.
Set in Edwardian England,
The Daughter of Highland Hall
follows debutante Kate as she enters into London's society for her first season. Her only goal for the season is to secure a proposal from a wealthy man - one who is, ideally, in line to inherit a title and estate. Kate's guardian, her uncle William, and his soon-to-be wife, Julia, are devout Christians, and they encourage Kate to grow spiritually and focus more on her faith. That's helped along when she starts spending time with Julia's brother, Jon, at the clinic for the poor. Ultimately, Kate must decide whether to follow her heart or continue to abide by society's strict rules.
I really enjoyed reading this novel, and I believe it sets a high standard for Christian fiction. I've read several books from the genre, but this is easily my favorite so far. I will definitely read the next book in the series when it's released (next October!), and I would highly recommend this to fans of Christian fiction, historical fiction, and Downton Abbey.
Rating (out of five stars):





Click to purchase from Amazon
Carrie Turansky's website
(I received this book from
Blogging for Books
for this review.)