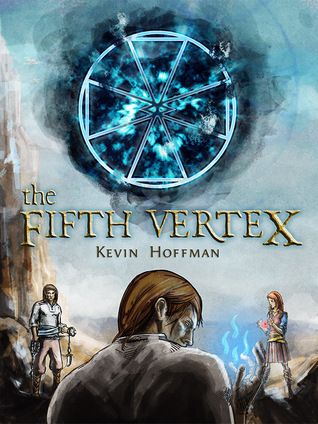 Read from September 16 to 21, 2014
I received a copy of this book from Netgalley in exchange for an honest review.
The men and women of Kest are warriors, and they deem anyone who isn't a fierce warrior as unworthy. Those who don't pass the test to become warriors are culled, meaning they are ignored by everyone else in the kingdom, and will only be considered a burden to those around them. Urus is set to be culled, and rather than live as a burden, he decides to jump off a tall building. His suicide attempt fails, and he is mysteriously saved by a glowing blue light. Thus begins his journey to find out who he really is.
The Fifth Vertex
is a clever blend of science fiction, fantasy, and steampunk. While the tale of a reluctant hero with magical abilities is a familiar one, this story includes a twist - the protagonist is deaf. Urus has spent his life being ridiculed and abused due to his deafness, yet his ability to sign seems to be extremely helpful to him as he learns to cast sigils.
I thought the idea of sigilords and blood mages was very interesting, but I would have liked to have read more about what a sigilord actually does. Without someone to teach him how to use his ability, Urus was blindly casting sigils throughout the book in the hopes that it would help him in whatever precarious situation he found himself in at the moment. I think a little more information about the sigilords would have been helpful. Instead of just reading about how his blue sigils were incredibly powerful and should have been impossible, I would like to know
why
. Hopefully that is something that will be addressed in subsequent books.
While I enjoyed the book, I did find a few small things bothersome. The main problem I had was that the ages of some of the characters are hard to pinpoint. Several of the main characters - including Urus, Goodwyn, and Caillax - all suffer from this issue. Their ages are never clearly stated; at times I thought they were children, yet at other times, I imagined them as teenagers or young adults. It wasn't a major problem, but it did cause a little bit of confusion at the beginning when I was trying to picture the characters.
Another small thing I disliked was that there was no closure at the end. There is a major cliff-hanger, and I was left feeling like there should have been more to the book. I don't mind cliff-hangers in general, but I feel that this one was a bit too abrupt. That being said, I will read the next book in the series once it is released, if only to get some closure to the story.
Rating (out of five stars):



Click to purchase from Amazon
Kevin Hoffman's website